Frequently Asked Questions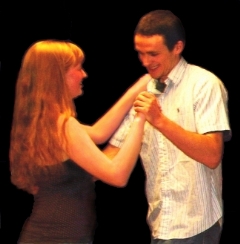 Can I learn to ballroom dance?
If you can walk, you can dance. Even people who feel that they have "two left feet" will quickly and easily start dancing at Stars Ballroom.
Do I need to bring a partner?
Participants rotate in the group classes so you will not need to come with a partner. A single participant during a private lesson will dance with his or her teacher.
Will it take long?
You will dance at your first lesson. How long it will take depends on how many dances you want to learn and how good you want to get in each dance.
Can I schedule lessons when it is convenient for me?
We can accomodate basically any schedule. Stars Ballroom is open seven days per week.
What are the benefits of taking ballroom dance lessons?
There are many, many benefits to ballroom dancing. Dancing provides an easy way to meet new people and make new friends while having fun. Dancing can be a great way to remain in shape, providing fun without extreme effort. In addition, studies have shown that learning dance patterns contributes to maintaining and improving intelligence.
What do I wear?
Most people feel appropriately dressed wearing nice, casual clothing.
What shoes should I wear?
To start, wear comfortable shoes that are enclosed at the heel. Ballroom dance shoes look better on the floor, and provide much better control of dance movements. For those interested in purchasing ballroom dance shoes, we highly recommend the Great American Ballroom Shoes Store. This store offers top-notch service, and is two minutes from Stars Ballroom.
Click here or call 602-690-6631 now!