Ballroom Dance Gift Certificates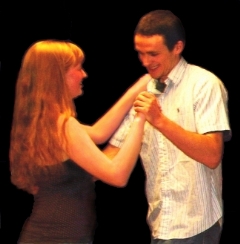 Gift Certificates can be purchased for private dance lessons, wedding dance packages, and the Friday night group class and dance party. Gift certificates can be purchased for that special someone and are a wonderful way to bring fun and excitement into that personís life. Itís like riding a bike Ė once you learn you never forget.
Gift Certificates for dance lessons and group classes make thoughtful gifts for the following special occasions:
Birthdays
Weddings
Valentineís Day
Holiday Gifts
Motherís/Fatherís Day
Graduation

Anniversaries
Congratulations
Business Gifts
Motivational Gifts
Secretaryís Day
Retirement
Click here or call 602-690-6631 now!