Private Ballroom Dance Lessons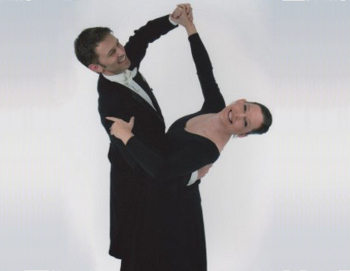 Private ballroom dance lessons are the fastest and most effective way to learn to dance. Private lessons allow you to receive focused and tailored instruction, based on your individual needs and interests. Hereís where youíll learn the details on the technique, character, and styling of each dance. Also, since private ballroom dance lessons are customized to your individual style of learning, youíll progress quickly. Learn that dance that you always wanted to know. Learn to move confidently on the dance floor. We will teach you what you need to know, and you will feel a sense of accomplishment while having fun.
Wouldn't it be nice to move smoothly around the room in the waltz or foxtrot, or dance an up-beat swing? Perhaps your interest goes to the hip-swaying slow and sultry rumba, or the quick and spicy salsa. Maybe you would like a little nightclub action, like 2-step or hustle. Wherever your dance interests lay, we can help you achieve your dance vision.
Scheduling your lessons
With availability during days, evenings, and weekends, youíll find it easy to fit private ballroom dance lessons into your schedule.
Dance Lesson Recommendation
Itís important for you to ballroom dance at least twice a week to retain what youíre learning. We recommend that you take at least one private dance lesson per week to best retain and advance in your ballroom dancing, and to supplement your education with group ballroom dance classes to learn variations, practice your dance moves, and enjoy performing them with different dance partners. If group ballroom dance classes arenít for you, we recommend taking private ballroom dance lessons multiple times per week.
&nbsp
Rhythm and Latin Dances
Rumba, Cha Cha, East Coast Swing, West Coast Swing, Merengue, Jive, Samba, Mambo, Salsa, Paso Doble, and Bolero.
Smooth and Standard Dances
Waltz, Foxtrot, Tango, Quickstep, and Viennese Waltz.
Other Dances
Argentine Tango, Nightclub 2-Step, Hustle, and Country Western Dances.
Click here or call 602-690-6631 now to start your way to dancing today.
&nbsp
Please note:

24-Hour Cancellation Policy Out of respect for your instructorís time, please give us at least 24 hoursí notice when canceling or rescheduling a private lesson to avoid being charged. Thank you!
Private ballroom dance lessons are 45 minutes each and expire 6 months after purchase.
Private ballroom dance lessons are taught in a ballroom that may be shared with other private lessons occurring at the same time.
A private ballroom dance lesson is for one or two people.
All private ballroom lessons are by appointment only.
We will make every effort to ensure that the same instructor is available for all private ballroom lessons, but cannot guarantee it.
Any bounced check will incur a fee of $50.