Wedding Dance Lessons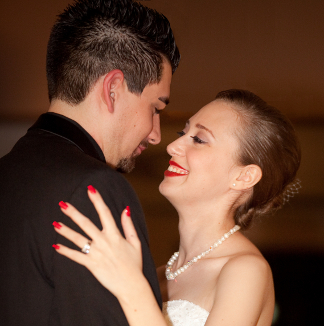 Allow us to fashion the perfect dance for your special day. Since the advent of the camcorder, weddings have been videotaped for posterity. A polished first dance is a promising symbol of your future life together, encouraging many future occasions to relive your happy memories on this special day. Make your first dance as a wedded couple as unique and special as you are.
Learn to dance together. Develop a shared pastime to enjoy together for the rest of your lives. We will provide private dance lessons in the Ballroom dance suitable for the music of your choice, or we can assist you in choosing the appropriate wedding dance music. Learn to move confidently on the floor in your own private choreographed dance. We will train you to have an elegant first dance as a wedded couple together.
We will teach you extra ballroom dances to allow you to look polished as a newly wedded couple during the general dancing. These may include waltz, foxtrot, rumba, cha-cha, salsa, east coast swing, or other dance(s) of your choice. Your wedding dance is waiting! Click here or call 602-690-6631 now!
Honor Dance
This is that special dance at the wedding where the Father and his daughter, the Bride, dance alone. The Groom may take his mother onto the floor half way through the dance. The wedding party and then guests join in afterwards. We will choreograph dance routines for the Father-Daughter and Groom-Mother Honor Dance to the music of your choice. Your jitters will be gone as you enter the dance floor relaxed and confident.
Wedding Party Group Lessons
Share a dance with your entire wedding party! Have your own group lesson with your wedding party and learn a dance for the general dancing after the First and Honor Dances. Your whole wedding party will look their best on your special day. Click here or call 602-690-6631 now to start your way to dancing today.